TRIP: Iceland & the Northern Lights
October 8, 2018
$5095 – $5194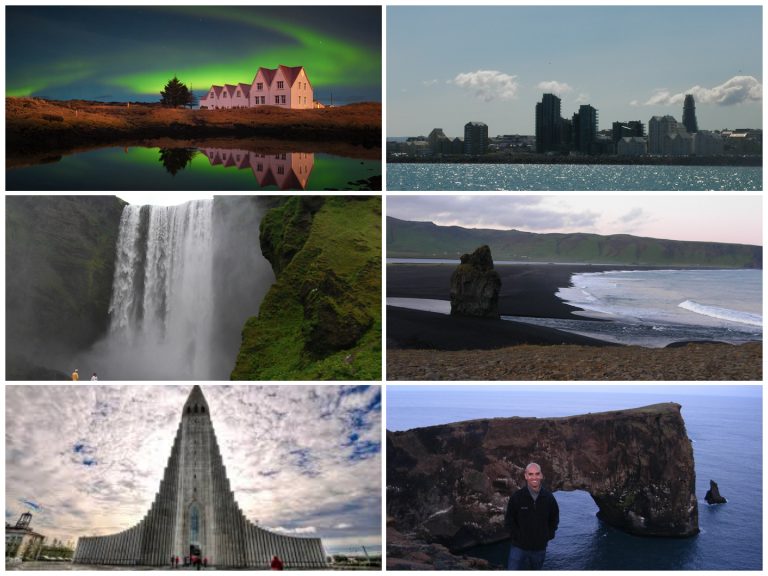 TRIP: ICELAND & THE NORTHERN LIGHTS
October 8-15
6 days, 6 nights
1 spot (2 if sharing hotel room) available as of September 19
$5095 for members in good standing
add $99 for non-members

FULL PAYMENT DUE UPON RESERVATION
includes airfare, hotels, tours, ALL meals,
1 glass of wine with dinner, tips,
and premium entrance to The Blue Lagoon
minus $300 if sharing a room
Common wisdom says that Iceland and Greenland were given those names because the Vikings of Iceland wanted discourage too many people from coming to their verdant island, but they didn't care how many people tried to settle the huge ice-covered land mass to its northwest. That may or may not be true, but according to National Geographic, 80% of Greenland is covered in ice (or at least it was back in 2016), and thanks to the Gulf Stream, Iceland's summers are intensely green, even though 11 percent of the country is covered with a permanent ice cap. Located in the southeast of Iceland, Vatnajökull (known as the Water Glacier in English), is Europe's largest glacier, and at 3100 square miles is a piece of ice nearly as big as Puerto Rico.
The itinerary is 95% complete, scroll down to see a day-by-day account. Most of what Iceland has to offer is not indoors, with one marvel of nature after another. We will tour around the island to survey the spectacular scenery that Iceland has to offer. This includes amazing waterfalls and black sand beaches, huge craters and small geysers, the classic Golden Circle, perhaps a whale watching expedition, and we will end the trip with a day of luxury at the Blue Lagoon.
As for the weather, in the month of October, we can expect average low temperatures to be approximately 36° F and the average high temperatures to be 45° F.
By the way, yes that is me (John) in the photo on the bottom right at a rock formation called ; I visited Iceland for a week back in the summer of 2009, during the time of year when they call it the land of the midnight sun. Hopefully on this trip we will get to see the Northern Lights!
To fully confirm, please email us your full exact name and your date of birth as printed on your passport, along with a signed waiver: https://thesinglegourmet.net/travel-waiver/
Even if you have sent them before, please send them again to confirm you are coming. If you have not yet paid the deposit, we will charge the $1,000 NON-REFUNDABLE deposit to your credit card, or you can send a check. Your reservation will not be confirmed until we receive the check and call you to confirm receipt.
We also strongly recommend travel insurance for all of our trips, as there will be no refunds. 
According to the travel guidebook series Frommers, the top 8 providers for travel insurance are (in alphabetical order):
---
ICELAND  ITINERARY
subject to minor changes
restaurants to be determined
DAY "ZERO": FLIGHT FROM JFK AIRPORT IN NEW YORK TO KEF IN ICELAND
NOTE: this will be a 6-hour, non-stop, red-eye flight, leaving JFK at about 9 PM, on October 8, arriving at about 7 AM October 9. We will check into the hotel in the afternoon. Check-in upon arrival is available if you pay for the previous night ($335), subject to room availability.
DAY 1: ARRIVAL IN REYKJAVÍK
Arrival in Keflavik airport early in the morning and transfer to hotel in Reykjavík. (Approximately a 50 minute drive).
We will have a 4-hour guided city sightseeing tour, stopping at various restaurants before heading to the Hotel.
Included meals: Dinner
Accommodation: Alda Hotel
DAY 2: SOUTH COAST OF ICELAND
The first leg of our journey is along the beautiful south coast Iceland. We will visit sights including the fairy tale-like Seljalandsfoss waterfall — the only of its kind in Iceland where we can walk behind the roaring cascade on a footpath, followed by the magnificent 60-meter (197 feet, about 20 stories) free-falling Skógafoss waterfall.
After lunchbreak we are going glacier hiking on Sólheimajökull. After the glacier we will head to the black sand beach of Reynisfjara, stop at the village of Vik, and experience the moss in Eldhraun lava.  Overnight: Hotel Hekla, Vik.
Safety Tips: You should wear shoes with good grip if you walk on the pathway behind Seljalandsfoss and up to Skógafoss waterfall. If you visit the beach near Vík, make sure to keep a safe distance from the shoreline due to rogue waves and strong undercurrents.
Included meals: Breakfast, lunch, and dinner
Accommodation: Hotel Katla (Note: previously this hotel was listed as Hotel Hekla, which had to be changed to accommodate all of the group)
DAY 3: GLACIER LAGOON & VATNAJÖKULL GLACIER
This is glacier day, with a drive east from Kirkjubæjarklaustur to Skaftafell and Jökulsárlón.  and explore the Diamond Beach, with icebergs on black sand.
Also on the agenda, is the spectacular Jökulsárlón glacier lagoon, famous for its floating icebergs in shades of milky white and bright blue. On a clear day, we may even get a good view of Breiðamerkurjökull glacier behind the lake. Next to the glacier lagoon we will stop at the Diamond Beach where we will see big chunks of ice that have washed up on shore after being polished in the surf of the glacier lagoon. A beautiful sight and a great photo opportunity!
After our exploration we will be heading back to our accommodation for the night. Local dinner will be served and afterwards you can end the evening by putting on some warm clothes for going out to gaze at the sky waiting for the northern lights to appear.
Included meals: Breakfast, lunch, and dinner
Accommodation: Hotel Katla (Note: previously this hotel was listed as Hotel Hekla, which had to be changed to accommodate all of the group)
DAY 4: THE CLASSIC GOLDEN CIRCLE
Today the group will explore the world famous Golden Circle, a popular route for viewing some of the best-known natural sites in Iceland.
First we stop at Kerið crater. Our next stop is thethe big and beautiful picture perfect two-tiered Gullfoss waterfall, where we can see the water thrash and tumble before falling dozens of feet below. Next, we will visit the Geysir area and explore the bubbling mud pots and spouting Strokkur geyser, which erupts steam and boiling water yards into the air every few minutes.
Further west we'll visit Þingvellir, where Icelanders established their parliament in 930. The parliament is located in the Rift Valley, between North American and Euro-Asian tectonic places.
Included meals: Breakfast, lunch, and dinner
Accommodation: Hotel Hamar
DAY 5:  SNÆFELLSNES PENINSULA
On our last day in the countryside we'll drive to Snæfellsnes Peninsula, where we'll see magnificent beaches, and possibly some seals at Ytri Tunga, lava formatted bird cliffs at Arnarstapi, and a black pebble beach at Djúpalónssandur. In the northern section of the Peninsula we'll see Kirkjufell, the most photographed mountain in Iceland.  We'll drive to Reykjavik in the afternoon.
Included meals: Breakfast, lunch, and dinner
Accommodation: Alda Hotel
DAY 6: BLUE LAGOON
Today we will dip into the biggest hot tub in the world. Blue Lagoon visit is an experience of a lifetime. In the afternoon we are going whale watching from Reykjavik harbor.
Included meals: Breakfast, lunch, and dinner
Accommodation: Alda Hotel
DAY 7: DEPARTURE FROM ICELAND
Today our journey in Iceland comes to an end. We will be picked up at our hotel and driven to Keflavik International Airport in time for check in. The flight leaves at 10:55 am and arrives at JFK at 12:58 pm.
[contact-form-7 id="16639″ title="Trip RSVP form"]
Related Events