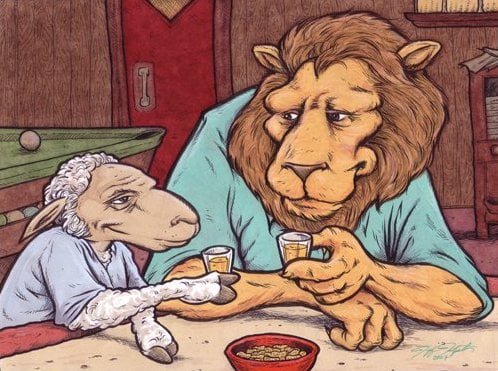 First, the obvious. Huge apologies for not having printed and sent newsletters for January and February. As many of you know, my mother was recently diagnosed with cancer, and it affected me (and my time) far more than I anticipated. However, her chemotherapy treatments finished in the second week of February, and she is feeling better. She is scheduled for surgery in March. I appreciate all of you who have sent thoughts and prayers our way. Because of the lack of newsletters, I will again extend everyone's membership by one month.
While looking for art for March's newsletter, I figured something depicting "in like a lion, out like a lamb" would be good. But then I came across this drawing, and said, "This is the one I have to use." And I came up with these (terrible) jokes: How does a lion go into a bar? Through the mane entrance. How does a lamb go out of a bar? After one drink too many, kind of sheepishly. (Groan!) Maybe I had one drink too many when I came up with them…
If you get this newsletter before February ends (hopefully you do), there is one event on Thursday, February 28 at Le Rivage, a cozy French bistro in the theatre district.
In March, we will have five events: we start with dinner on Sunday, March 3, at Petaluma, an Italian restaurant on the Upper East Side. Then we return to the Harvard Club on Friday, March 8, with a seafood theme (lobster is on the menu!) for their fabulous food, amazing ambiance, and live music and dancing. On Saturday, March 16, we return to Paname (a storied French restaurant and favorite of the group) for dinner. To celebrate the return of Spring (a few days late), we will feast on tapas at Sala One Nine on Sunday, March 24. Our final dinner will be at Uskudar on Saturday, March 30, also on the Upper East Side; this time we will be in the larger side of the restaurant and have more room to mingle during the cocktail hour.
---
TRAVEL
I am working on travel plans. I am definitely confirming that New Year's Eve in Cuba will happen this year, whether we have 5 people or 15 people. If you were one of the people who paid a deposit last year, and want to go this year, please call me.
Other trips being planned: Santa Fe/Albuquerque, Toronto, Croatia, and possibly Spain.
---
The following February events are available for
The Single Gourmet Members and their guests:
---
Docks Oyster Bar and Seafood Grill633 3rd Ave (corner of E 40 St)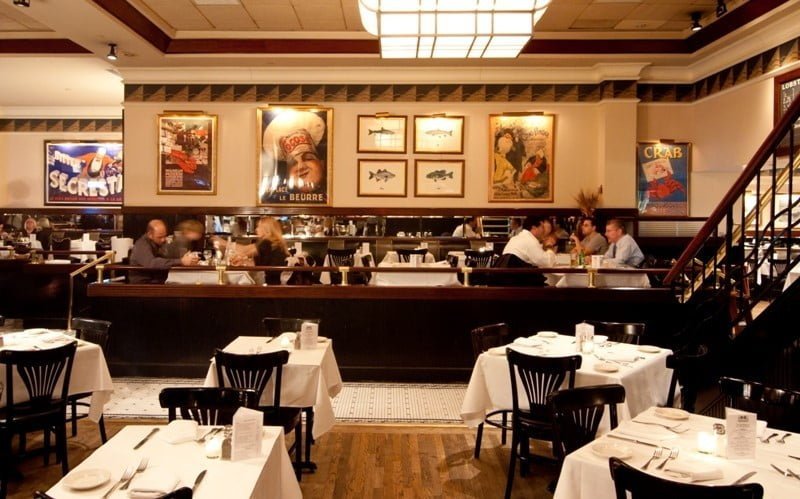 Sunday, February 24
5:45 pm optional drinks
6:30 pm dinner
$74 (discounted price extended through Sat, Feb 23)
prix fixe includes:
3 courses, 1 glass of wine
coffee/tea, tax & tip
$82 if payment is received after Saturday, Feb 23
$10 supplement for non-members and guests

The Single Gourmet usually celebrates the 4th of July at Docks, but this evening it's just dinner with friends. Established in 1986, we specialize in bringing the freshest seafood to the island of Manhattan. Docks' daily specials and simply prepared fish are reasons for their longevity, along with an outstanding service team, a great wine list and an amazing New York atmosphere in which guests can create memories. Zagat rated for "reliable fish and bivalves galore with professional servers and a high-octane social scene." Bonus: for the optional drinks before dinner, Docks has happy hour from 3-7 PM with select wines for $7, sparkling cava for $8, draft beer for $4, and well drinks for $6 ($7.50 on the rocks).
MENU:
Appetizers (choice of):
Mussels Mariniere
New England Clam Chowder
Charred Kale Salad Carrots, radish, fresh herbs, gruyere
Entrées (choice of):
Grilled Honey Brined Amish Farmed Chicken Poblano mashed potatoes, cippolini onions, roasted radicchi
Spiced Organic Faroe Island Salmon Wild rice, chili-honey roasted butternut squash, piquillo pepper emulsion
Cedar River Farms Flat Iron Steak French fries, coleslaw
Vegetarian Risotto Seasonal vegetables, vegetable broth, parmesan
Desserts (choice of):
Chocolate Pudding
Key Lime Pie
---
Le Rivage (French)340 W 46 St (between 8th & 9th Ave)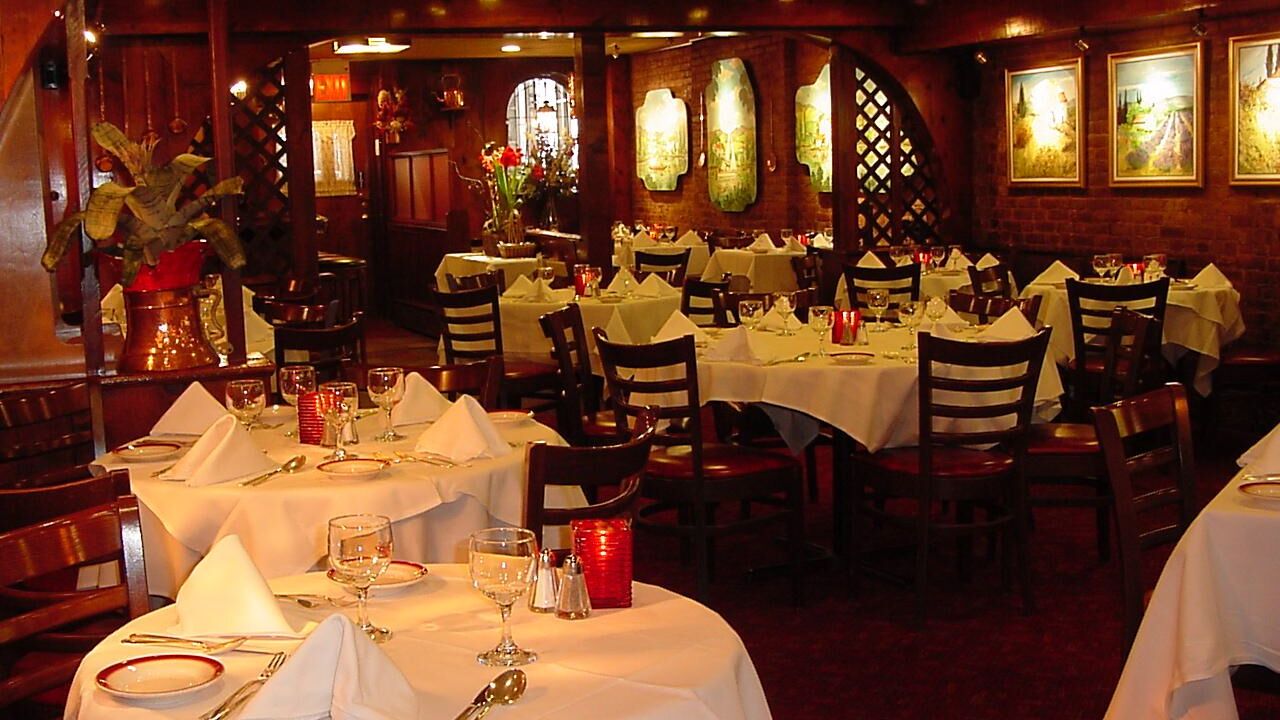 Thursday, February 28
6:30 pm optional drinks
7:15 pm dinner w/live music
$71 (discounted price extended through Mon, Feb 25)
prix fixe includes
3 courses, glass of wine
coffee/tea, tax & tip
$79 if payment is received after Mon, Feb 25
$10 supplement for non-members and guests
Le Rivage offers a cozy, romantic French country atmosphere in the heart of the Theater District. Traditional French cuisine is expertly prepared for your pleasure with fresh flowers embellishing each table, and the food is cooked with a family tradition and quality passed down through three generations. We will start with a choice of Caesar salad, Moules farcies, Potage de legumes; continue with entree choices of Almandine trout, Seared North Atlantic salmon, Chicken cordon bleu, Boeuf Bourguignon, and finish with dessert choices of Bread pudding, Crème caramel, or Chocolate mousse.
---
The following March events are available for
The Single Gourmet Members and their guests:
---
Petaluma (Italian)
1356 First Ave (at E 73rd St)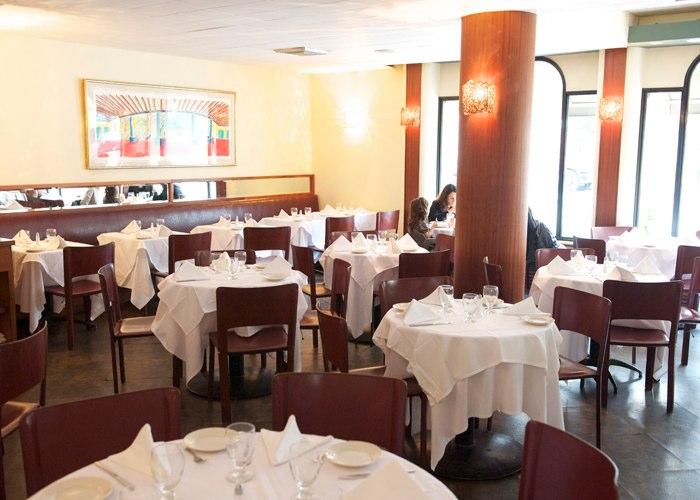 Sunday, March 3rd
5:45pm optional drinks
6:30pm dinner
$79 (early payment price) prix fixe includes:
3 courses, glass of wine
coffee/tea, tax & tip
$88 if payment is received after Wednesday, Feb 27
$10 supplement for non-members and guests
An Italian American Grill, Petaluma has been serving the Upper East Side of Manhattan for over 30 years. This restaurant has been highly recommended by some of the locals who are members of our group. The eatery, named after a town in California, brims with natural light pouring through large windows that makes for a comfortable atmosphere. The interior is darker, woodier and more rustic. Recently renovated and with an updated menu selection that's attuned to today's health and dietary concerns, they still kept the traditional, signature Italian favorites. The chef, C. J. Bivona, who was the chef at Yardbird Southern Table & Grill in Miami Beach, has installed an ambitious Italian menu that has been a recent hit for the neighborhood.
Our dinner starts with a choice of classic caprese, chicken meatballs, or crispy calamari; entrees are Whole Wheat Pasta Primavera (roasted eggplant, zucchini, mushrooms, peas, diced tomatoes, light marinara sauce), Mediterranean Branzino Filet (pan seared branzino filet, arugula, lemon), Veal Marsala (veal top round with mushroom and marsala wine sauce with side of pasta), or Chicken Parmigiana with Spaghetti marinara; we then have a selection of traditional desserts to choose from.
---
The Harvard Club – Seafood (lobster entrée available)
Live music & dancing27 W 44 St (between 5th & 6th Ave)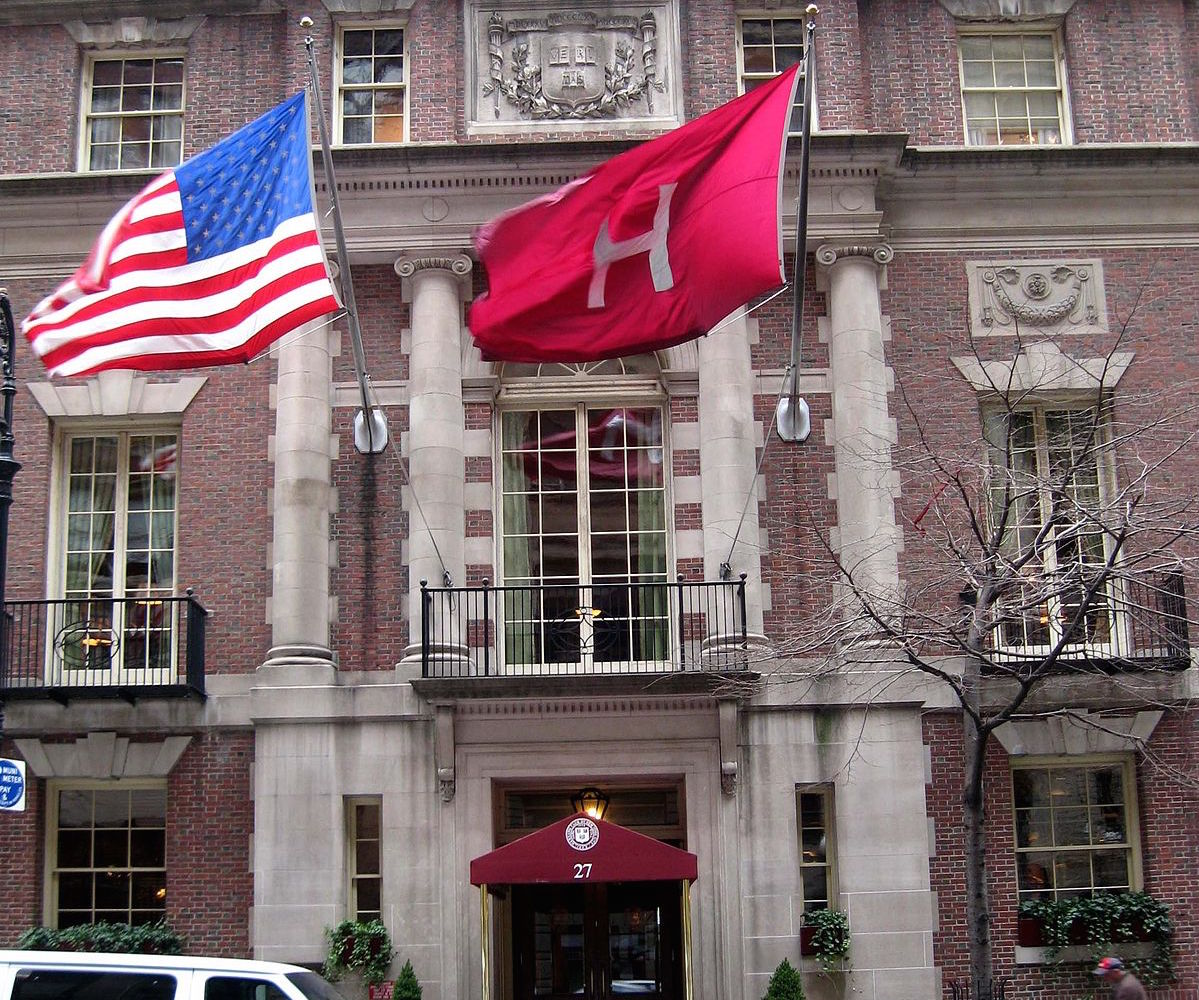 Friday, March 8
6:15 pm optional drinks @ Kellari, 19 W 44 St
7:00 pm dinner at The Harvard Club
$133 (early payment price) prix fixe includes:
3 courses, 1 glass of wine, coffee/tea, tax & tip
$16 for extra glass of wine
$148 if payment is received after Monday, March 4
$20 supplement for guests of members
If you've been to any of the Harvard Club dinners that we've had, you know how amazing the food is and are familiar with the excellent service and the  ambiance. This dinner is a bit more expensive than the others because I have chosen the best items available from the menu (lobster and filet mignon). The last time we were there in December, there was live music, a piano player and vocalist, but this time I made sure that a 4-piece big band that you can dance to will be playing. There won't be another Harvard Club dinner until late July, so be sure to catch this one!
Back in August, The Harvard Club had a "Shore Dinner", and members who went to that said that the lobster was some of the best they had ever tasted. This is not officially a Shore Dinner, but Executive Chef David Haviland and his culinary team will delight us with seafood favorites listed below, and we will cap off the perfect summer evening with live music for your dancing and listening pleasure. Please note: cash and credit cards are not accepted at the club, and you cannot order drinks at the bar unless you are a member.
No cell phones in the main dining room and 
no photographs anywhere in the club
.
Dress code: "business casual" attire: men must wear a shirt with a collar (jacket and tie are not required, but preferred), no jeans, no sneakers/athletic shoes. This event is limited to 30 people, RSVP early!
Our menu for the evening: we start with appetizers (choice of) Caesar salad, Burrata caprese, Chilled shellfish platter, or Grilled octopus. Our entrees includ: Farro and Vegetable Melange, Roast-stuffed Organic Chicken breast, Grilled Filet Mignon, Miso-glazed Sea Bass, Main Lobster Garganelli, Diver Sea Scallops. We finish with desserts of Coconut Panna Cotta, Key Lime Pie, Chocolate Mousse Cake, and Assorted sorbets. Wine choices: Sparkling white from France; Valdo Prosecco from Italy; Sauvignon Blanc from France; and Montepulciano from Italy.
---
Paname (French)1068 2nd Ave (between 56th & 57th St)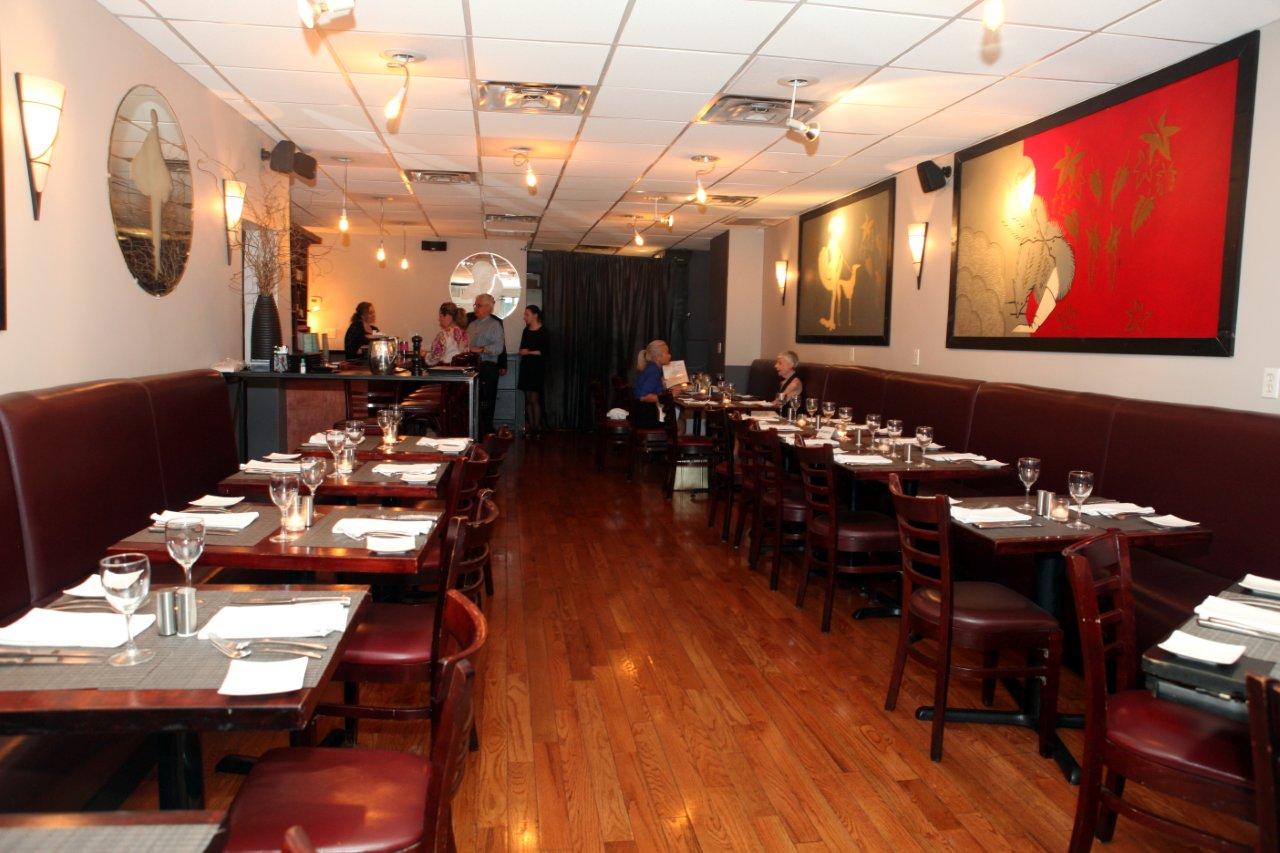 Saturday, March 16
6:30 pm optional drinks
7:30 pm dinner
$81 (with early payment) prix fixe includes:
Complimentary hors d'oeuvres (with cash bar) from 6:30-7:30
3 courses, glass of wine, coffee/tea, tax & tip
$90 if payment is received after Tuesday, March 12
$10 supplement for non-members and guests
Named after the most famous and hip nickname for Paris, which originally came from the Panama hats worn by French men back in the early 20th century, Paname is the brainchild of French Chef/Baker Bernard Ros formerly of Le Deauville and Meli Melo. With over 47 years of experience as a NYC chef, Chef Ros knows his way around a kitchen. Having first started in his parent's restaurant in Paris, Chef Ros has spent his entire life dedicated to French food. Paname is a classic, neighborhood style French bistro and has received 4 stars on Yelp and 4.5 stars on TripAdvisor. The décor of Paname is French simplicity and the atmosphere is warm and inviting. Ros personally shops for every menu ingredient daily and is the pastry chef for the restaurant.
Menu: Appetizer (choice of): Escargots de Bourgogne in Russet Potatoes, Crab Cakes with Remoulade sauce, Caesar salad maison; entrées (choice of): Organic Chicken Breast with compote d'Aubergines, pine nuts and thyme blossom; Beef Bourguignon; Sauteed codfish a la niçoise, tomato fondant; Sauteed Shrimp Vadouvan on bed of rice; dessert: Chef's selection of French desserts.
---
Sala One Nine (Spanish tapas)35 W 19th St (between 5th & 6th Ave)
Sunday, March 24
5:45 pm optional drinks
6:30 pm dinner
$77 (early payment price) prix fixe includes: Spanish tapas feast, glass of wine, coffee/tea, tax & tip
$86 if payment is received after Wednesday, March 20
$10 supplement for non-members and guests
https://thesinglegourmet.net/event/sale-one-nine-2019-03-24/
When Michael Jannetta returned to New York after a study abroad program in Segovia, he was shocked to find that there were no authentic Spanish restaurants in Manhattan. Craving the pure flavors and fresh ingredients he had enjoyed in Spain, Michael decided to open his own tapas restaurant, Sala (on the Bowery), in 1999. The business was so successful that in 2004, he expanded to 19th Street with Sala One Nine. Zagat rated 4.2, they say, "Dependable tapas and sangria fuel the energetic scene at this inviting, no-attitude Flatiron Spaniard that works for hanging out with friends or going on a fun date." 
Sala
means "living room" in Spanish, and this living room on W 19th St feels like being inside a family run tapas restaurant in the Spanish countryside.
This is an intimate Spanish eatery serving traditional tapas and sangria in a rustic space that is well-known amongst the locals in the Flatiron area. Sala One Nine makes a point of using fresh, high-quality ingredients, many of which are sourced from local New York farms, with a menu that changes seasonally. Our menu will include shared courses (tapas) of grilled filet mignon with valdeon cheese, adobe marinated pork loin over gruyere, bacon wrapped dates, fried goat cheese with clover honey and candied onions, grilled octopus with mojo verde potatoes sea salt, cured Spanish meats & cheese, shrimp sautéed in olive oil, garlic & guindilla peppers, and finally paella (seafood, chicken & vegetarian styles), followed by dessert platters of flan, sorpresa & tarta. There will be a lot of food. 4 stars on Yelp.
---
Uskudar (Turkish)1405 2nd Avenue (between 73 & 74 St)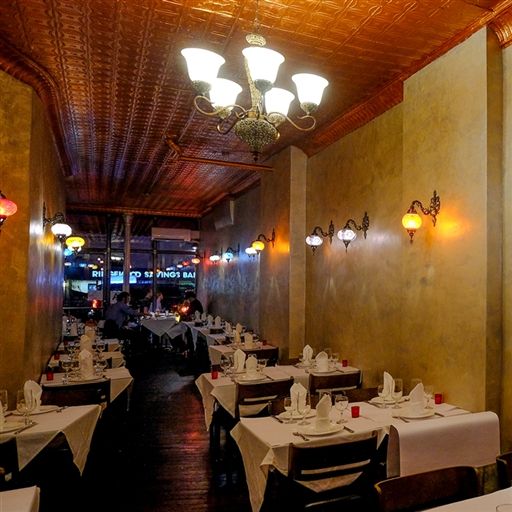 Saturday, March 30
6:45 pm optional drinks (wine & beer only)
7:30 pm dinner
$78 (early payment price)
prix fixe includes: 3 courses, 1 glass of wine or soft drink, coffee/tea, tax & tip
$87 if payment is received after Tuesday, Mar 26
$10 supplement for non-members and guests
Serving traditional and vegetarian dishes in an intimate, exposed-brick space, Uskudar uses authentic Turkish recipes. Made with love by Chef Ibrahim Ozdemir, he recreates Turkish food here in the heart of New York City as it is found in Turkey by combining the freshest of ingredients following recipes that have withstood the taste test of time. Each dish is prepared with special care, and is of the highest quality. The NYTimes says, "This restaurant is the model of a successful neighborhood institution. Appetizers are familiar yet lively, kebabs are well flavored and stews are excellent."
Menu: for appetizers we will have a choice of petlican (smoky eggplant, garlic, yogurt, herbs), borek (crispy pan-fried phyllo rolls, crumbled feta & spinach), mucver (pan-fried zucchini pancakes), marul (salad: lettuce, feta cheese, tomatoes, cucumbers, onions, peppers, parsley, olive oil & vinegar); for entrees, we will have a side of rice & vegetables and choose from lamb shish (lamb chunks marinated & skewered with tomatoes, onions and peppers), garlic chicken (chunks of chicken breast sautéed with garlic, lemon & white wine), wild branzini (chargrilled whole branzino, side of green mix salad available instead of rice & veg), and a vegetable casserole (variety of vegetables stewed in tomato sauce); for dessert, we choose from kayisi (poached dried apricots, almond & cream), baklava (walnuts and pistachio), or kadayif (baked shredded wheat, walnuts and pistachio).