North Fork Wine And Food Festival
June 27, 2015 @ 11:00 AM

-

6:30 PM

$104 – $114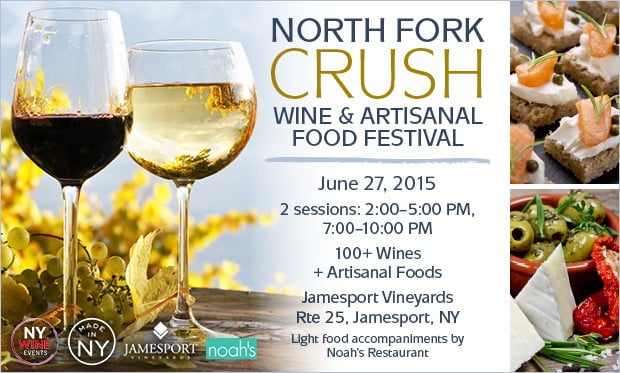 NORTH FORK WINE & ARTISANAL FOOD FESTIVAL
Jamesport Vineyards w/Jazz Concert
Saturday, June 27, 2015 – early session (2 PM at the winery)
Bus Leaves NYC 11 AM sharp returns around 6:30 PM
Bus Pickup 140 E 40th St, 10:45 AM  $104 all inclusive
We will be heading to North Fork LI to Sample over 100+ wines and enjoy some food sampling from Noah's Restaurant as well as many other artisanal food companies. Since its opening in 2010, Noah's has received numerous accolades and Executive Chef Noah Schwartz has been lauded by "Best Chefs America"-2012, 2013, 2014 and 2015!
The event will include, transportation from Manhattan, three hours of sampling 100+ wines and delicious light food including cheese, crackers, fresh breads, crudite, charcuterie, chocolates, ethnic foods, jams, dips, vegan delights, cakes, cookies, nuts, seasonal specialties, fresh fruits, beverages and much more.  Artisanal food tables will be placed throughout the vineyard featuring the very best fare from the NY & North Fork area. All participating artisanal food companies will be sampling their offerings.
There will be a jazz concert on the vineyard grounds. This event also includes a complimentary wine glass.  This is not a tour of the vineyard, members will be free to wander on their own and taste and drink as they desire.
The Festival will feature grape varietals from across Long Island's 3,000 acres of vines. We will get to taste from an eclectic mix of 100+ bold reds, whites, and some sparkling selections. The region's maritime climate, geography, and soil characteristics combine to produce wines of exceptional quality. Attendees will have the opportunity to meet Long Island's finest winemakers. You won't be dealing with distributors, importers, or retailers; you will be interacting with the region's actual wine growers and producers.  This is a unique opportunity to learn about winemaking from the experts.
Winery's include but are not limited to, Jamesport Vineyards, Waters Crest Winery, Coffee Pot Cellars, Brotherhood Winery (America's oldest Vineyard est. 1839), Lieb Cellars, Brooklyn Oneology, Roanoke Vineyards, Harbes Farm & Vineyard, Martha Clara Vineyards, Raphael Vineyard, Lenz Winery, Saltbird Cellars, Sparkling Pointe, Vines and Braches, Palmer Vineyards and many more wineries as well as artisanal food companies
Related Events