Tout Va Bien
November 19, 2015 @ 5:45 PM

-

8:45 PM

$71 – $76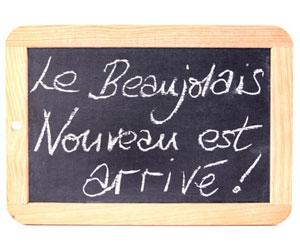 Tout Va Bien- "Beaujolais Nouveau Day"
311 West 51st (8th and 9th avenue)
Thursday, November 19st
5:45pm optional drinks, 6:30 dinner
$71 3-course meal, unlimited wine, coffee/tea, tax & tip.
This 1948 family run restaurant is one of the best French restaurants in the theater district and has been a regular for our group for many years. As in years past, they are willing to help us celebrate another November tradition, one that falls on the third Thursday of the month- Beaujolais Nouveau Day. When it first started in the Beaujolais region of France in 1937 it was actually on the 15th of December, but now at 12:01am on the third Thursday of each November, from little villages and towns across this region, millions of cases of Beaujolais Nouveau begin their journey to Paris for immediate shipment to all parts of the world: "Le Beaujolais Nouveau est arrivé!" By the time it is over, 65 million bottles, nearly half of the region's total annual production, will be distributed around the world. The Gamay grapes (the only grapes permitted to be used in production), by law must be picked by hand (only Champagne shares this requirement too), and must come from the Beaujolais AOC. Beaujolais Nouveau is intended for immediate drinking, as it doesn't improve with age and is best served slightly chilled. This fresh and fruity red is the result of a quick fermentation process that ends up with a tasty, clean wine that is enjoyed by palates all over the world.  The most well-known producer is Georges Duboeuf, who is credited as one of the marketing geniuses behind the wine. Selling this young red was viewed by some vintners as a means to clear large quantities of wine at decent profits, which would create a much-needed cash flow shortly after harvest. As we know, it has become a worldwide race to be the first to try this new wine after the harvest and we will be drinking it all night at our dinner- the FIRST day it arrives! Our menu includes moules mariniere, pate maison, boeuf bourguignon, saumon provencale, coq au vin, hanger steak, creme caramel, mousse au chocolat, or tarte tatin
[contact-form-7 id="1015″ title="Pay by Check RSVP"]
Tickets are not available as this event has passed.