Philip Marie- 4 courses
May 16, 2015 @ 7:00 PM

-

10:00 PM

$79 – $84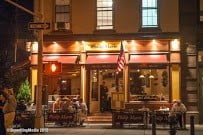 Philip Marie
569 Hudson Street Satuday May 23rd
 7:00pm optional drink, 8:00pm dinner
$79 Includes 4-course meal, gl wine,coffee t&t
The first repeat of a new restaurant from last year, and it deserves it. A quaint townhouse on nice corner in the heart of the west village, close to the Highline if you want to take a stroll before dinner. Philip Marie boasts both a history as a speakeasy (the basement goes down 3 levels where they hid the booze) to one of the most romantic restaurants in NYC (they have private tables for two deep underground in their wine cellar). Chef Joh Greco, whose bio sounds like an around-the-world culinary tour is well known throughout the restaurant communities of New York, Rome, Milan, Frankfurt and Brazil. He is a graduate of the Culinary Institute of America. Before opening Philip Marie, he worked at such renowned establishments as Imola in Italy; San Domenico, Cipriani in New York City and Venice; Le Cirque and Torre di Pisa, New York, where he was executive chef He was a finalist on the TV show Chopped. Dinner here last year was one of the top rated / best dinner events we had for both food and service. Captain Crunch coated sea bass, YUMMY.
Our menu is 4 courses and is fantastic, just like last year and looks like this
Salad
Baby Organic Kale Salad
Char-grilled Local Corn, Goat Cheese, Walnuts, Raspberry Cider Vinaigrette
Appetizer
(Served Family Style)
Marie's Nachos
Midwest Salsa, Cheddar Cheese, Crème Fraiche, Jalapeño Peppers, Pinto Beans
Black Angus Sliders
Glazed Onions, Cheddar Cheese
Crispy Cayenne Chicken Bites
Spicy Chipotle Aioli 10
Crispy Portobello Fries
Tangy Avocado Dipping Sauce 9
Entrée
(Choose One Entrée – Chef Selected Glass of Wine Served With Entrée)
Grilled Spinach and Artichoke Stuffed Chicken Breast
Roasted Pine Nuts, Citrus Sauce, Garlic-Basil Mashed Potatoes
Sautéed Double Cut Stuffed Pork Chop
Wild Mushrooms, White Truffle Essence, Molasses Glaze
Cap'n Crunch™ Coated Mediterranean Sea Bass
Israeli Couscous, Winter Vegetables, Arugula, Apricot-Tahini Sauce
Dessert
(Choose One Dessert – American Coffee or Tea Included)
Carrot Cake
Chocolate Velvet Cake
[contact-form-7 id="1015″ title="Pay by Check RSVP"]
Tickets are not available as this event has passed.