Minton's Playhouse (live jazz brunch)
April 28, 2019 @ 12:00 PM

-

2:30 PM

$74 – $84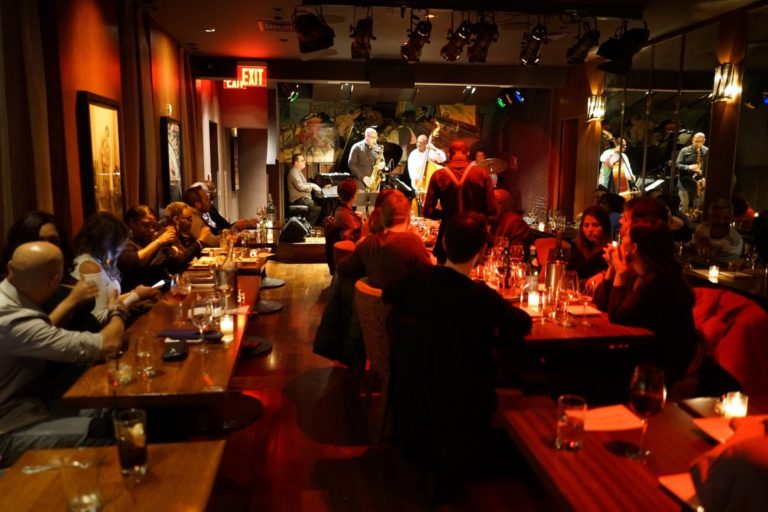 Minton's Playhouse: Live Harlem Jazz Brunch
206 W 118th St (corner of St. Nicholas Ave)
note: this is next door to the Cecil Steakhouse
take the B, C, 2, or 3 subway to 116th St

Sunday, April 28
12:00 pm optional drinks at the Cecil Steakhouse
12:30 pm brunch next door at Minton's Playhouse
$64 prix fixe includes
3 course brunch
1 mimosa with brunch
coffee/tea, tax & tip
$74 if payment is received after Fri, Apr 26
+$10 supplement for non-members and guests
So… in between the time that I booked the brunch at the Cecil Steakhouse and now, they decided to change the music there to a DJ playing pop/dance music, and move the jazz brunch to their sister restaurant, Minton's Playhouse, which is next door, and where we will have brunch. We will start with drinks at 12 noon at the Cecil Steakhouse, and move to Minton's Playhouse at 12:30 for brunch.
Founded in 1938 by the saxophonist Henry Minton, Minton's Playhouse is arguably America's greatest cultural contribution to the world of jazz. Over the next decade Minton's Playhouse became the setting for a revolution in jazz: it is where Bebop was born, where the foundations of modern jazz were established, and is now one of the most important shrines of jazz music.
Minton's shares a kitchen with the famed Cecil Steakhouse, where The Single Gourmet has had brunch before. Zagat rated 4.4, they write "A happening place with an outstanding, inventive menu, this Harlem hit puts together foodie-approved Afro-Asian-American dishes highlighting flavor combinations that are hard to find elsewhere; it's great for groups and also has an exceptionally good weekend brunch." James Beard-nominated chef Joseph "JJ" Johnson opened Cecil Steakhouse in 2013 with Richard Parsons and Alexander Smalls. This Culinary Institute grad worked in New York's most esteemed kitchens including Centro Vinoteca, Jane, and Tribeca Grill and then took off for Ghana to explore the country's exotic markets. Cecil Steakhouse is a chic brasserie with leather banquettes and the food on the menu will turn your head.
MENU:
First course (choice of):
Argentinean Empanadas (choice of) Chicken, Beef, Shrimp, Grilled Vegetables, Spinach, Served With Kale, Cherry Tomatoes, Corn, Avocado Salad
Caesar Salad Romaine lettuce, garlic croutons, shaved Parmesan cheese, homemade dressing
Cecil Salad Mixed Greens, Fresh Fennel, Tomatoes, Peaches, Green Olives, Feta Cheese, Lemon Balsamic Dressing
Second course (choice of):
Classic Breakfast Two Eggs Any Style, Colombian Sausage, Bacon, Mac & Cheese, Toast
Chicken & Waffles Freshly Made Waffles, Marinated Grilled Chicken, Mixed Berries
Avocado Toast with Smoked Salmon Cucumber, Dill, Cream Cheese, Pomegranate, Feta Cheese.
Minton's Pangasius Fried Pangasius Filet, Marinated Tomatoes, Chipotle Sauce, Salsa Fresca, Cilantro, Onions, Fresh Serranos, Salt, Lime Juice, Sweet Plantains
Steak & Eggs Sweet Potatoes Au Gratin, Garlic Spinach (+$10 supplement)
Dessert (choice of):
Tres Leches
Brownie A La Mode
Cheesecake
REFUND POLICY: Due to restaurant deposit and guarantee requirements, cancellations for dinners are accepted up to ONE WEEK prior to the event. If you cancel 4-6 days prior, you will receive a credit toward a future event, but there will be no refunds for cancellations made 0-3 days before a dinner. Ticketed events (tours, shows, and ANY non-dinner event) are non-refundable within 7 days of the event.
Also note: ALL menus listed are subject to change due to restaurant supply.
[contact-form-7 id="1015″]
Paid members of The Single Gourmet: if you do not see the member price below, please click here to log in to the website. If you need assistance logging in, please feel free to contact me.
Related Events