Marseille (SOLD OUT)
December 25, 2019 @ 3:00 PM

-

6:00 PM

$120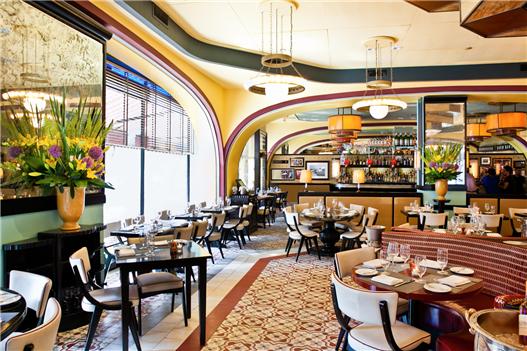 Marseille (French)
630 9th Ave
(corner of W 44th St)
Wednesday, December 25
(Christmas Day)
3:00 PM optional drinks
4:00 PM dinner
SOLD OUT
please email or call if you would like to be put on the waitlist
$120 includes:
3 courses, 1 glass of wine
coffee/tea, tax & tip
Same price for members, non-members, and guests
this event is limited to 25 guests
Have a light breakfast, as it will be an early Christmas dinner for us this year at this popular French brasserie that feels "like being in Paris, but with better service and a quality menu, in a room that suggests Rick's Place in Casablanca" according to Zagat. Michelin Guide says, "Marseille marries the charm of a classic French bistro with the inimitable style of New York City; the skilled and truly professional kitchen prepares an impressive cuisine bursting with pronounced balanced flavors." From the same restaurant group that owns Café D'Alsace, Maison, Torino, French Roast, Le Monde, Nice Matin, Pigalle and L'Express. Give yourself the gift of a great meal – they have given us so many options to choose from (9 appetizers and 8 entrees), this will be a Christmas dinner to remember. 
MENU:
Appetizers (choice of):
Lorraine Tart – Swiss chard, bacon, gruyere, onions
Porcini Risotto – chestnut cream, pecorino
Cavatelli Aragosta – lobster, peas, tomatoes, scallions, garlic
Burgundy Snails – pastis – garlic butter, herb bread crumbs
Marseille Salad – green oak leaf, mustard vinaigrette, almonds
Onion Soupe Gratinée – french bread crostini, gruyere
Warm Seafood Salad – octopus, shrimp, calamari, mussels, cannellini (white kidney beans)
Tuna Tartare – avocado, potato crisps, lemon vinaigrette
Italian Chicory Salad – Winter citrus, gorgonzola, buttermilk dressing 
Entrees (choice of):
All Natural Christmas Turkey – dried fruit & sausage dressing, roasted Brussels sprouts, sweet potato puree, cauliflower gratin, cranberry chutney & sherry wine gravy (also available in vegetarian version, without the turkey and sausage)
Long Island Duck Breast – organic Japanese sweet potato puree, confit of pears & grapes
Prime Beef Rib Eye – potato & leek gratin, buttered asparagus, beef jus
Prime NY Strip Steak a la Diane – roasted mushrooms, brandy mustard sauce, pomme frites
Roast Rack of Lamb – parsnip puree, confit carrots, Brussel sprouts
Branzino – ragout of saffron potatoes, fennel, bouillabaisse broth
Pan Roasted Halibut – fennel fondue beurre blanc
Porcini Risotto – chestnut cream, pecorino
Dessert (choice of):
Bûche de Noël – meringue, chocolate fudge, vanilla mousse (classic French Christmas dessert)
Ice Cream or Sorbet – ask server for available flavors
Fresh Berries & Cream
Note: Consuming raw or undercooked meat, fish, shellfish or eggs increases the risk of foodborne illness.
Special Refund Policy for this dinner: Sometimes plans unexpectedly change, which we understand. However, restaurants do impose deposit and guarantee requirements when we plan our events, especially for Dec 25, so we have the following refund policy for this dinner:
If you cancel:
10 days (or more) before this dinner, you may cancel for a full refund, less a $5 cancellation fee
7-9 days before this dinner, you will receive a credit toward a future event, valid for up to 6 months, less a $10 change fee
0-6 days before this dinner (or if you do not show up), no refund or credit
Related Events