Lattanzi (Roman Jewish) Passover dinner
April 24, 2019 @ 6:15 PM

-

9:00 PM

$108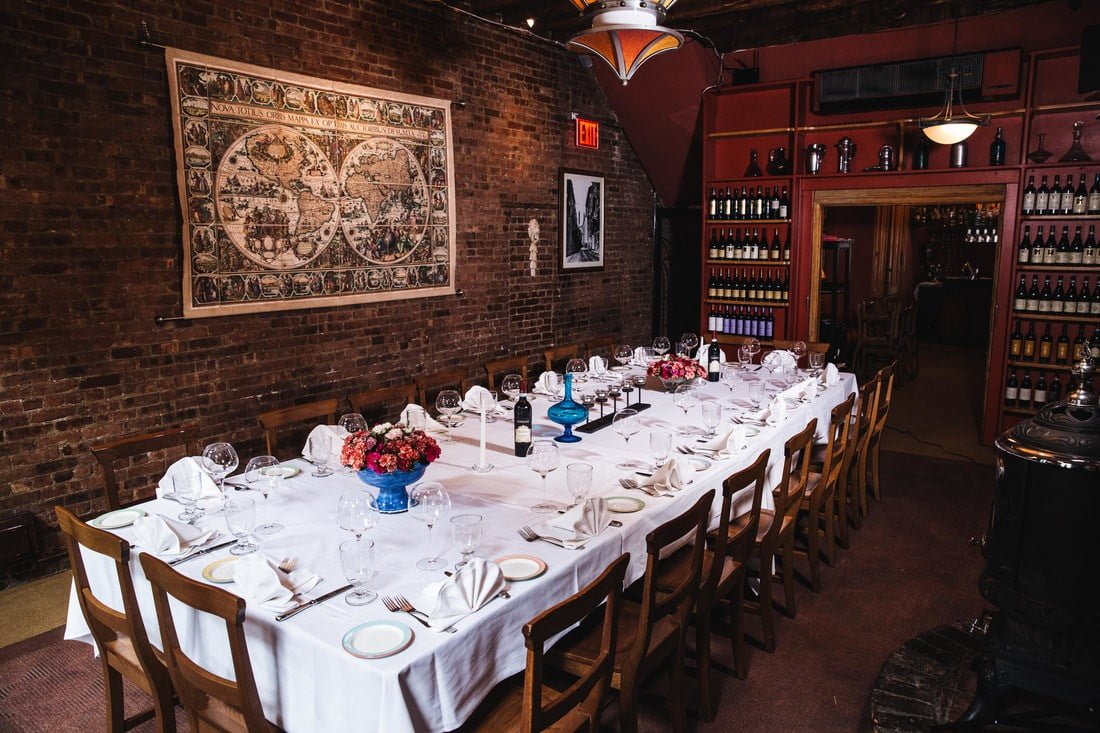 Lattanzi (Roman Jewish)
vegetarian choices available
*** new restaurant ***
361 W 46 St (between 8th & 9th Ave)
Wednesday, April 24
6:15 pm optional drinks
7:00 pm dinner

$88 (early payment price) prix fixe includes:
3 courses, 1 glass of wine or soft drink, coffee/tea, tax & tip
$98 if payment is received after Sat, Apr 20
+$10 supplement for non-members and guests
This will not be an actual Seder meal, but a meal where longtime Single Gourmet member Marilyn Schulder has graciously offered to lead us in — according to her — only the most fun parts of the seder! Her friend and also longtime member Lyle Perlmutter will also assist. Scroll down for menu details.
Chef Paolo came to New York City as a child when his mother Erminia Lattanzi left Italy for Brooklyn in 1965. Erminia developed a knack for cooking eggplant, and Paolo learned and perfected the art of making mozzarella. What was once a personal passion turned into professional ambition in 1978, when the Lattanzi family opened a Roman Italian Cucina in the Upper East Side, named Trastavere (later called Tevere). The business quickly grew, as word spread about the authentic Italian cuisine that was difficult to find elsewhere (not to mention the ingenious eggplant dishes and fine homemade mozzarella).
In the spring of 1984, Lattanzi was opened at 361 West 46th Street. Now in its 35th year, this unique Italian Restaurant is a classic on Theater Row. Renowned for its "Roman style specialties". Over the years, the neighborhood has developed into a cultural and culinary epicenter, and Lattanzi has grown from a one-room Italian cucina into a multi-story ristorante with seating for over 300. With a Zagat rates it a 4.3 and calls it "Something "special" on Restaurant Row, this "better-than-average" with an unusual menu of Roman-Jewish specialties; a strictly "old-guard" experience with gracious service and a charming setting featuring lots of dining nooks and crannies."
MENU (note: this is *not* a kosher menu):
Antipasto (choice of ):
Caponata Ebraica, Mozzarella en Carrozza, Suppli' al Telefono Combination of marinated
eggplant caponata, breaded and fried mozzarella, and rice ball
Carciofi alla Giudia Lattanzi's signature dish of artichokes cooked Jewish style; sautéed with garlic and
extra virgin olive oil
Pezzetti Fritti Batter dipped and fried broccoli, mushrooms, artichokes, and zucchini
Entrées (choice of):
Sogliola con Indivia Filet of sole sautéed with fresh endive, garlic, extra virgin olive oil, and
vinegar
Pollo alla Cacciatora Boneless chicken with fresh rosemary, garlic, and white wine
Veal Scaloppini Carciofi Veal Scaloppine with artichokes, mushrooms, onions sautéed in Extra
Virgin Olive Oil and garlic
Eggplant Parmigiana (vegetarian) Sautéed eggplants in tomato sauce with a mozzarella and
Parmigiano cheese
Dessert (choice of):
Napoleon
Fresh Berries with Zabaglione
Cassala Ricotta Cheese Cake
REFUND POLICY: Due to restaurant deposit and guarantee requirements, cancellations for dinners are accepted up to ONE WEEK prior to the event. If you cancel 4-6 days prior, you will receive a credit toward a future event, but there will be no refunds for cancellations made 0-3 days before a dinner. Ticketed events (tours, shows, and ANY non-dinner event) are non-refundable within 7 days of the event.
Also note: ALL menus listed are subject to change due to restaurant supply.
[contact-form-7 id="1015″]
Paid members of The Single Gourmet: if you do not see the member price below, please click here to log in to the website. If you need assistance logging in, please feel free to contact me.
Who's Attending
12 people are attending Lattanzi (Roman Jewish) Passover dinner
Related Events