Bottino
May 25, 2016 @ 5:45 PM

-

9:15 PM

$78 – $83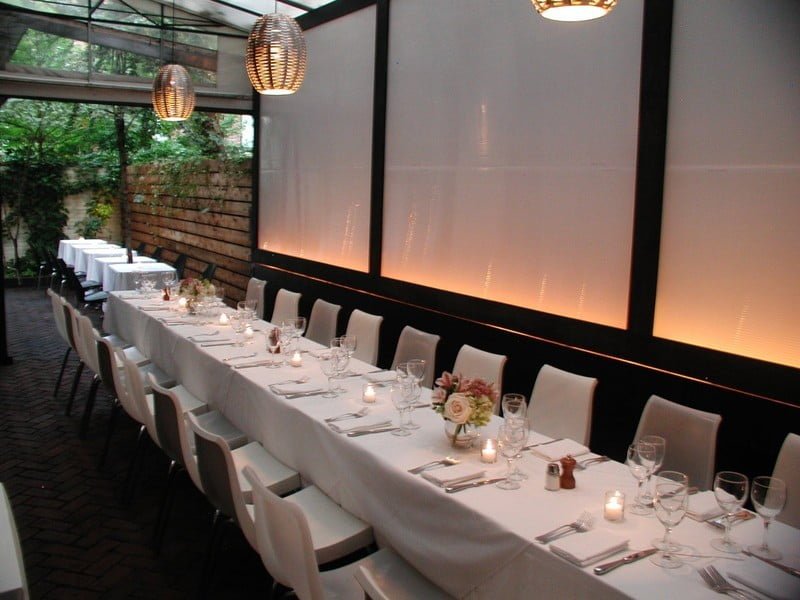 Bottino
246 10th Avenue (24th Street)
Wednesday, May 25th
5:45pm drinks, 6:45pm dinner
$78-  Full Dinner, glass of wine, coffee, tax and tip
Established just slightly ahead of the West Chelsea boom that brought a new wave of artsy tenants to the once-industrial neighborhood, Bottino has retained the casual, cutting-edge feel it had when it opened. The converted hardware store still has the original wooden floors, shelving and skylight, a wood-paneled bar in front and a stark 1960s dining room in back, from which you can access the plant-filled garden through a sliding garage door. Zagat rated- "this Tuscan Pioneer delivers solid meals with an unhurried pace that suits its arty constituents and the charming spacious garden is bound to please everyone." Opened in 1998 by former Barocco stalwarts Daniel Emerman and Alessandro Prosperi, "Bottino became an immediate hit with the far west Chelsea art scene with dishes that are succulent and the art-world gossip (resonates) through the crowded dining room and front bar at all hours."- NY Mag. We start off sharing dishes such as bruschetta al pomodoro, fritto misto- tempura battered calamari, shrimp and vegetables and antipasto of cured meats. Then we have choices of homemade ravioli verdi, homemade fettuccine with saffron, shrimp and cognac; homemade penne with smoked prosciutto, grilled organic baby chicken, branzino with roast potatoes and swiss chard, pan-seared filet mignon and for dessert- chocolate tiramisu, gelato, mixed berries, zabaglione and biscotti. This is the last dinner until June 5th as we head to Nashville the next day (1 spot left for Nashville).
[contact-form-7 id="1015″ title="Pay by Check RSVP"]
Tickets are not available as this event has passed.