Bottino
July 30, 2017 @ 1:45 PM

-

5:15 PM

$79 – $84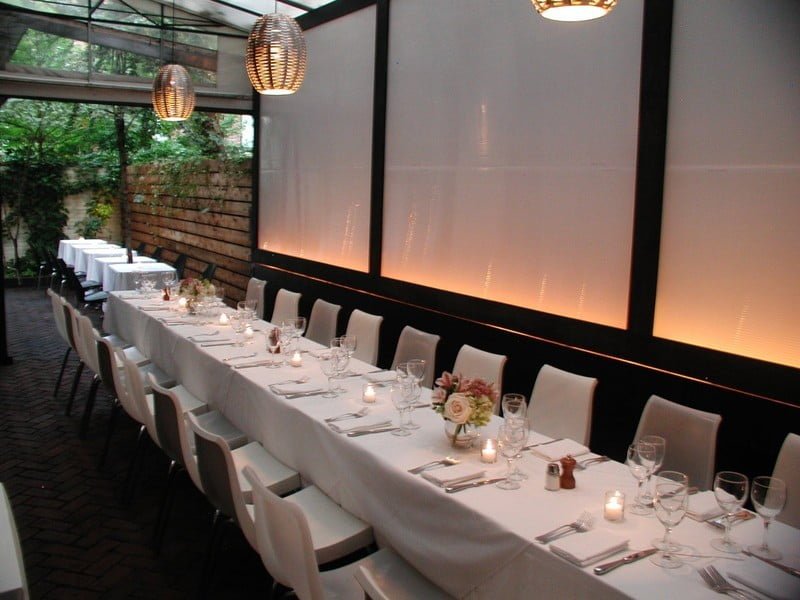 Bottino Ristorante
246 10th Avenue (24th Street)
Sunday, July 30th
5:45pm drinks, 6:30pm dinner
$79-  Full Dinner, gl of wine, coffee/soda, tax, tip
Established just slightly ahead of the West Chelsea boom that brought a new wave of artsy tenants to the once-industrial neighborhood, Bottino has retained the casual, cutting-edge feel it had when it opened. The converted hardware store still has the original wooden floors, shelving and skylight, a wood-paneled bar in front and a stark 1960s dining room in back, from which you can access the plant-filled garden. Zagat says, "this Tuscan Pioneer delivers solid meals with an unhurried pace that suits its arty constituents and the charming spacious garden is bound to please everyone." Opened in 1998 by former Barocco stalwarts Daniel Emerman and Alessandro Prosperi, "Bottino became an immediate hit with the far west Chelsea art scene with dishes that are succulent" NY Mag. Voted 3rd by FourSquare for best restaurant in Chelsea for a filet Mignon and listed at one of the top places in Chelsea for Salmon. We start off sharing dishes such as Tomato and Mozzarella, Basil, Olive Oil, fried calamari and arugula, prosciutto and melon. Choose entrees such as rigatoni with eggplant, peppers, tomato and basil ricotta salata or homemade pasta with Manila clams, cherry tomatoes, garlic, white wine or orecchiette with broccoli rabe, sausage, Tuscan pecorino or grilled organic baby chicken, peperonata or grilled salmon, salsa verde; fingerlings and haricot verts or pan-seared filet mignon, Sangiovese reduction; mashed potatoes, broccoli rabe ending with desserts of chocolate tiramisu, poached pears and zabaglione, gelato and biscotti.
PLEASE NOTE: Our Cancellation Policy- If you cancel within 72 hours of a meal event there are no refunds. Restaurants MUST plan in advance  for large events and I guarantee a headcount based on YOUR RSVP. I am held to that guarantee and often pay a deposit or the full amount in advance. Ticketed events (tours, shows, ANY non-dinner event) are non-refundable within 7 days before the event.  Also note: MENU's listed here are subject to change!
PLEASE DO NOT HIT SEND UNLESS YOU ARE PAYING BY CHECK. FILL OUT THE FORM BELOW, THEN GO TO UPDATE CART!!!
[contact-form-7 id="1015″ title="Pay by Check RSVP"]
Who's Attending
12 people are attending Bottino
Related Events